Written By: Nayana Nag
"Have you ever been to New York City?"  We asked Pace Middle School students this question and then specifically asked where in New York City they would most like to visit. Forty-one students responded to our survey and the most popular places included the Statue of Liberty, Times Square and Broadway, the Empire State Building, and Central Park. This article will share some highlights of these top attractions and hopefully entice you to visit for yourself.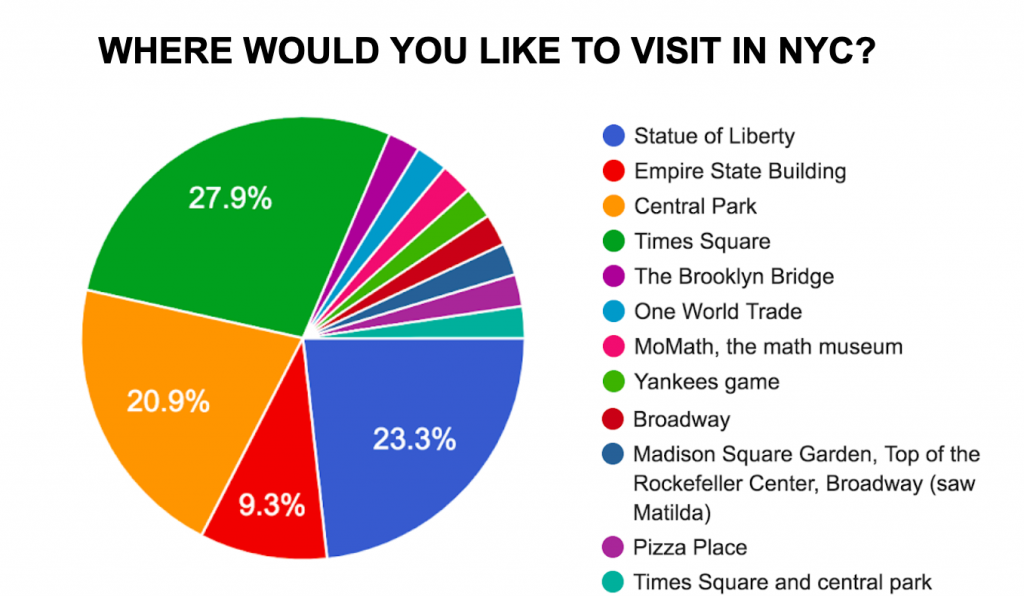 The Statue of Liberty is known as the "Lady of Liberty". The statue was a gift from France to the United States in 1886, and was dedicated as a national monument in 1924. Historically, it was known as a symbol to thousands of immigrants as they entered into the United States via Ellis Island. The shackles on Lady Liberty's feet represent the breaking of the horrors of slavery, and the freedom that America can provide.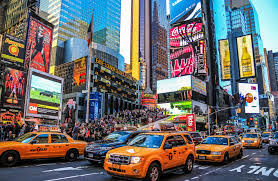 Times Square is a major commercial intersection as well as a major tourist attraction in New York. It is definitely the brightest part of the city with all of its digital billboards and advertisements. It stretches from West 42nd to West 47th Streets. On New Year's Eve, as the clock strikes twelve, a ball drops from the sky to symbolize the new year. This happens in Longacre Square. The event attracts millions of visitors every year. 
Times Square is also the hub of the entertainment industry. There are 41 theaters located around Times Square and this makes up the area known as Broadway where many famous musicals and plays are shown, such as Hamilton, Cats, Matilda, and Wicked. Some shows, such as Matilda and School of Rock, include performances by Middle School aged students!
The Empire State building is one of the tallest buildings in the world stretching 1,454 feet up in the air. From the top of the Empire State Building, visitors can see all of New York City. It is one of the most famous attractions on Earth. The Empire State building was built in record time during a race to see who could build the tallest building first.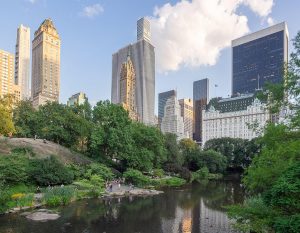 Central Park is known for its greenery and beautiful diversity of plants. The 840 acre park is the most visited park in the world: 37.5-38 million people visit this park everyday. Central Park is also one of the most filmed locations in the world. Some movies filmed in Central Park include The Avengers, Spiderman 3, and Enchanted.
These are only five of the many attractions available to see in New York City. Other places Pace students want to visit include OneWorld Trade Center, MoMath Museum and the Brooklyn Bridge. Why not plan a visit to the city that never sleeps?