Written By: Jackson Allegra
This year we welcome a new faculty member to Pace Academy: Ms.Berry, the new 8th Grade Math teacher, Math Counts head, and head volleyball coach for 7th grade girls. Ms.Berry came from Dickerson Middle School in the Cobb County public school system.
Ms.Berry loves Pace. She hopes to prepare students for Algebra 2 and provide them with hands on applications of Math. Ms.Berry values interacting with all her students and how each has a different personality. While she doesn't pick favorites, she favors G period as of now because: "They know when to be social and when to be academic."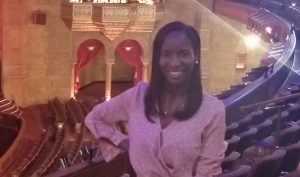 Outside of her work at Pace, Ms.Berry loves dancing, playing sports, writing, and painting in her free time. She also enjoys eating Italian, Creole, Mochi, and Soul Food. In terms of pop culture, Ms.Berry has read all of the Percy Jackson series because she is obsessed with Greek mythology. For Game of Thrones fans, she says 'I was quite disappointed and became emotional wreck because of the last Game Of Thrones season." Ms Berry is also a big fan of The Office, How I Met Your Mother, and Gilmore Girls. She is Team Jess all the way!