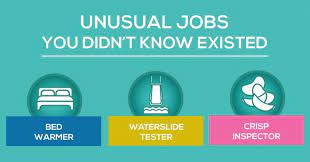 Over the course of the next few weeks, you may see some articles with the overarching title: Unusual Jobs. Unusual Jobs is a new string of articles telling all about the weirdest and most unorthodox jobs out there.
Be on the lookout for titles such as Paper Towel Sniffer, Line Stander, or, Worm Picker. Thank you!

Have you ever really thought deeply about how a paper towel smells? If you're like most people, probably not. Paper towels are usually odorless. At least the ones that go into production are.
This is because it is someone's job to sniff paper towels to make sure they do not have any undesirable odors before being put into stores.
There is an extremely selective process for hiring people to be sniffers. You must have an acute sense of smell, and this is a job with a limited number of openings, so you have to be very skilled in this sense.
Being a paper towel sniffer is just one of the many odd jobs out there, so check out our website for more!