by Harrison Brown
As our inaugural article for Momentous Mondays, I would like to present a woman that took the country by storm in the early 1900's. She changed how people around the globe saw education and how to make it more accessible to children so they could exceed. I present to you, Mary McLeod Bethune!
Mary Jane McLeod was born on July 10,1875 in Mayesville, South Carolina. As her parents, Patsy and Samuel McLeod,were sharecroppers, Mary spent most of her time on the farms. She was the first of her family to attend school at Maysville Presbyterian Mission School, Scotia Seminary and Moody Bible Institute. It was special for young African Americans to learn to read and write because it was illegal to learn as slaves. Later on in her life, she became a teacher and married a fellow teacher colleague. She moved with her husband to Palatka, Florida and worked at a church and also sold insurance. In 1904, Bethune's husband passed, so to support her young daughter, she opened up a boarding school called the Daytona Beach Literary and Industrial School for Training Negro Girls. It was unique because it was one of the few schools for African American girls. In 1923, Bethune's school merged with the Cookman  Institute, an all-male school, to create Bethune-Cookman College, a now very successful co-ed institute.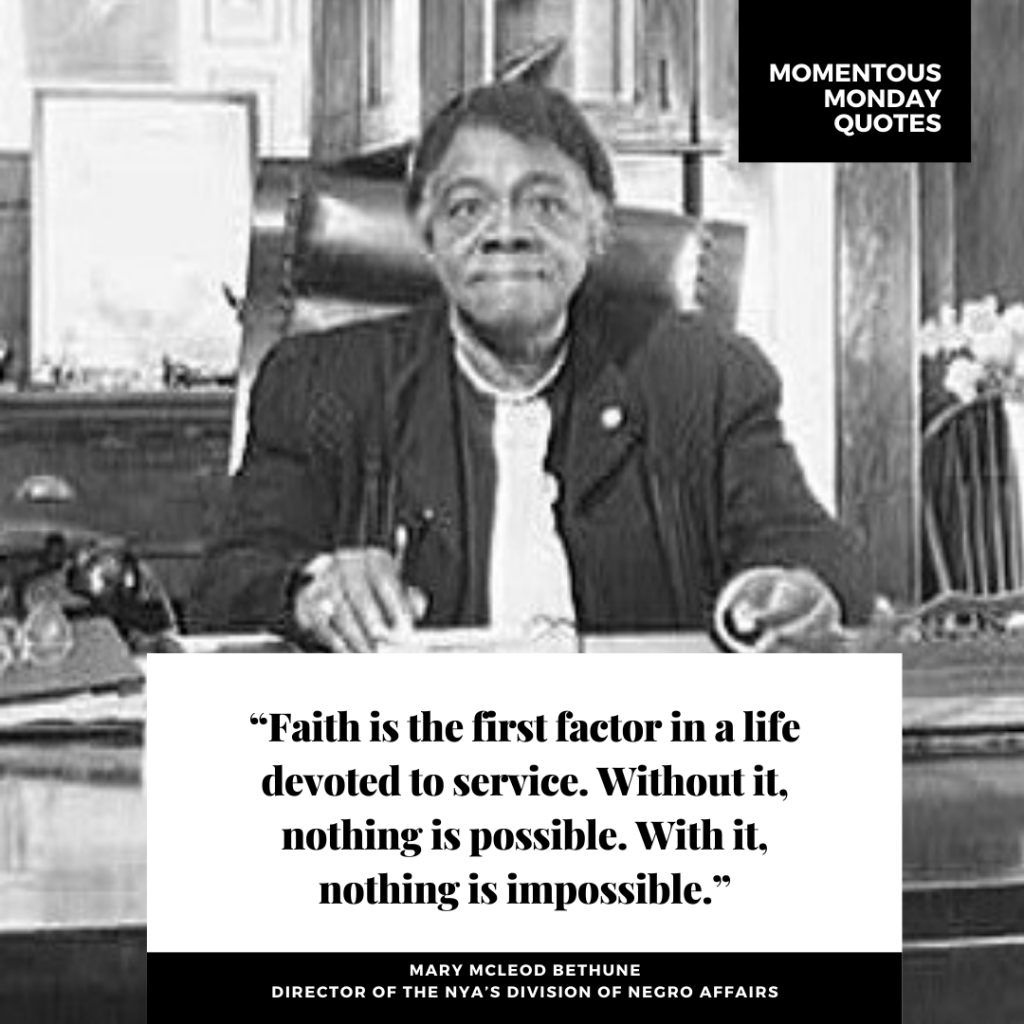 Mary was a very accomplished woman during her lifetime. Her opening one of the first schools for black girls in Florida was legendary. She made their educational journey so much more prosperous and now more black girls could have an easily accessible education. As a pioneer in the schooling system, she attracted the attention of powerful people in the country such as Franklin D. Roosevelt and Harry Truman.  In 1936, President Roosevelt appointed Mary to the National Youth Administrations Division of Youth Affairs. This appointment made her the first black woman with her own federal agency. In 1945, President Truman provided Mary with a spot at the very first UN conference, where she was the only person of color in the room. She also delivered a speech alongside VP Thomas Marshall speaking on the topic of black Red Cross surgeons being able to perform the same tasks that white surgeons could. During her lifetime, she was close with 4 presidents, won several awards, and gained political titles in other countries such as Haiti and Liberia. 
Ms. McLeod Bethune passed away on May 18, 1955. Even long after her death, her legacy has changed the lives of millions of families. Bethune-Cookman University is now a thriving HBCU and has produced very accomplished teachers and activists, even NFL and  MLB players. Her impact today has shown light onto making education a right instead of a privilege and that education will be an overall growth asset!