by Madeleine Ganz and Lizzy Bauer
Hello and Welcome to our first Dessert of the month article! During this series we will make one recipe a month and then interview a member of the Pace community on how they liked it. For this fabulous October our dessert of the month is Candy Corn Cupcakes and our lucky reviewer is Mr. Anthony. So let's get started! 
You might be thinking what are Candy Corn Cupcakes? Basically, it is a vanilla cupcake  dyed with yellow and orange food color in layers. It has a buttercream frosting topped with festive candy corns.  Now that you know how this works, here is what Mr. Anthony thought!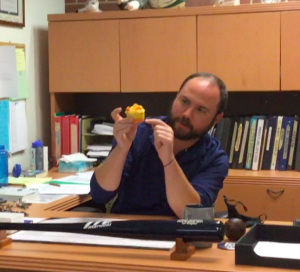 If you would like to try and make the Candy Corn Cupcake, follow the recipe below. To download the recipe, click here:
Cake Ingredients(for 12 cupcakes):

Food dye (yellow and orange)
1 ½ eggs
¾ teaspoons vanilla extract ¼ cup butter (½ stick)
A pinch of salt
¼ teaspoons baking powder
¾ cup sugar
1 cup flour

Candy Corns (3 for each cupcake)

Frosting Ingredients (for 12 cupcakes):

1 ½ cups confectioners sugar
½ stick of butter
1 teaspoon vanilla extract
2 ½  tablespoons milk

Cake Instructions:

Pre heat the oven to 350

F

then line 12 muffin tins

Mix  flour, sugar, baking powder, and salt on a low speed

One at a time add in the eggs, followed by the milk, and  vanilla,                  butter scraping down the sides every now and then.

Once all is smooth evenly scoop into three bowls I

 recommend using an electronic scale.

Then dye one bowl orange one yellow and keep one the same.                            

Now that the batter is dad put in two small spoon fulls of

each color starting with orange and ending with white.

Now put them in the oven for 20 to 25 minutes and you are

Done! Make sure the cupcakes are completely cool before

frosting.

Frosting Instructions:

Cream the butter and sugar ina stand mixer

Add in the vanilla extract and milk

Mix until smooth

Add a little bit of each color and mix only a little bit so that it marbles

If you choose to do so here is how to pipe the frosting:

 Put the frosting in one piping bag and tie the top 

 In another bag that is empty cut the tip and put in piping tip

 Then cut the tip of the bag with frosting then put it inside the empty one

Then pipe to your liking!