by Lizzy Bauer
Welcome to the Pace Academy Middle School Food Column. Today we will be rating a restaurant near Pace. Let's go to bartaco! This awesome restaurant has super tacos, cool bowls, and amazing margaritas for adults! All the servers wear masks correctly, and they are very efficient. They have a large outdoor area, clean tables, and fast service. Bartaco has elegant, modern style, and they serve modern style food in different varieties. Here at MidKnight Times, we decided to order a few tacos.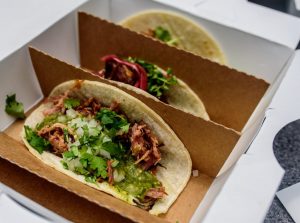 The first type of taco we ordered is great for those who like spicy with a hint of sweet! If that is your type of food style, we recommend the glazed pork belly. 
Next, we chose a less spicy but amazing meat with kimchi on top! Does that catch your fancy? If so, then choose the sweet sesame rib eye, with spicy kimchi.
Third, we chose a good vegetarian option that has a hint of salt. If you are vegetarian or just love your veggies, bartaco has a portobello taco for you!
Then, for our seafood lovers, try the crispy oyster taco with rémoulade sauce! 
Finally, we chose a delicious taco that is good for picky eaters who don't like spicy food, anything too salty, or sweet. Eat up the bartaco falafel taco, it's just right. 
If you are craving something nobody knows about, ask what their secret taco of the month is… Don't worry, it'll be so delicious!
So if you are hungry, and you are tired of the same old restaurants, go to bartaco!