Written By: Van Muller
One young cyborg, one deadly plague, one handsome prince, and a whole lot of awesomeness get together in this futuristic fairy tale based book by Marissa Meyer.  The first installment in this series of 4 awesome books opens up a completely new window of futuristic fiction. Cinder is a fairy tale novel based on Cinderella, but with a futuristic, science fiction spin. It is full of action, adventure, and just a tad of romance: perfect for Middle School readers.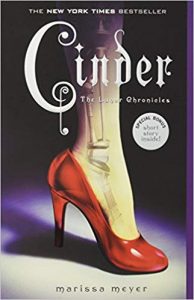 Characters in Cinder live on the moon and have a special gift that can with people with a special gift that can cause problems for their Earthen neighbors. With lots of hover vehicles, a rather annoying cybernetic foot, and a very lovable android, this book is guaranteed to make you stay up all night reading with a flashlight. This YA novel's plot is shaped to surprise, and is a good example of making hard decisions, for other people's good, and looking past prejudice.