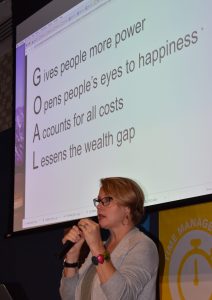 Written By: Hadley Gunn
On August 30, Reverend Kate Mosley came to Pace Academy to Talk Trash". During her visit, she discussed how to use faith and community to help clean up the world. Reverend Moseley founded her organization, Georgia Interfaith Power & Light, based on the mission of using community to address the global issues of today.
Reverend Mosley shared several statistics and stories about waste and consumption. For example, she told us about the 5 trash gyres in the ocean. Trash gyres form in the ocean when plastic and other waste accumulates into islands due to ocean currents. Reverend Moseley also shared that Americans recycle 9% of our plastic but the UK recycles 35% of their plastic. Why is it that Americans recycle so much less and how can we encourage people to recycle more?
One topic Reverend Mosley challenged Pace students to explore in depth is Fast Fashion: the trend to rush catwalk style designs to retail store clothes. Because retailers rush to produce the latest trends, the quality of fast fashion products tends to be lower which means it falls apart faster so people throw it away sooner. 
Finally, Rev. Mosley asked us to think about how we can decrease our overall production of trash. She posed interesting challenges such as not using single use plastic for a month. It's important to take care of our planet and thanks to people like Reverend Kate Mosley it's more possible to educate people on the importance of reducing, reusing, and recycling our waste.