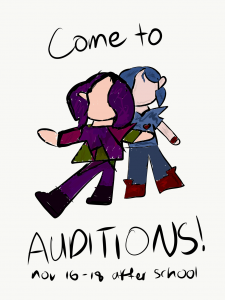 This year's Middle School Musical will be Descendants by Disney. Tryouts were held November 16-18.
Descendants tells the story of Disney heroes and villains but with a twist. The children, or descendants, of classic villains like Maleficent and Cruella de Vil have been banished, along with their parents, to an island prison, the Isle of the Lost.
The virtuous have been enjoying a life of abundance and happiness in the United States of Auradon, led by Beast and Belle. Their son Ben is set to become the next King and as his first royal proclamation, he decides to bring 4 teenagers from the Isle of the Lost to Auradon Preparatory School. Everyone deserves a second chance, he reasons, and the descendants of the villains should not suffer from their parents' choices.
This sets into a motion a chain of events when Mal, Evie, Jay and Carlos find themselves torn between the world they knew and the world they had been told to destroy. Through song and dance, Descendants mixes up who is good and who is evil. The show questions the roots of forgiveness and shows the bravery it takes to defy expectations and forge your own path.
Stay tuned for more updates about the show!