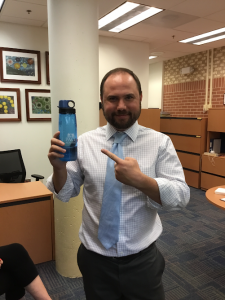 Written By: Grace O'Bryan and Ashley York
"I really enjoy using my Nalgene water bottle because I feel much better when I stay hydrated throughout the day. I tend to drink a LOT of water throughout the day, and being able to do so without producing waste is important to me. The reusable water bottle is also much easier to refill and drink from than any normal plastic bottle. Truthfully, I enjoy the cost it saves me as well. For the amount of water I drink, I would spend a lot of money purchasing it all in single use bottles. Having a refillable water bottle just make sense for me on all levels!"
-MS Principal Mr. Anthony
Background
In our investigation to figure out the most beloved water bottle brand at Pace Academy, we had in-depth interviews with thirteen individuals and we received over 50 responses to our detailed survey. Throughout this article, we will show you which brands are marketing new accessories and designs, and important features about each water bottle brand. 
Please note that about 16% of those who took the survey do not bring reusable water bottles to school, and most people who don't own reusable water bottles said they used the water fountains. We highly encourage students to consider the following water bottle options to reduce plastic waste.
The Thermoflask
Our first interviewee was Mrs. Ashley Clay, the Middle School Study Strategies teacher. Clay explained why she used her Thermoflask. She says her water bottle's material, insulated metal, keeps her ice cubes frozen and more useful all day long. Clay also mentioned how the sipper cap makes it easier to drink out of. The Thermoflask water bottle is priced at around $25 to $45 depending on size, and they can be purchased on Amazon.com, as the Thermoflask brand does not have it's own website. They come in many of different solid colors, but when researching this water bottle, we weren't able to find a patterned version. But, we think that the Thermoflask is a great, simpler water bottle to try out for school and sports.
The HydroFlask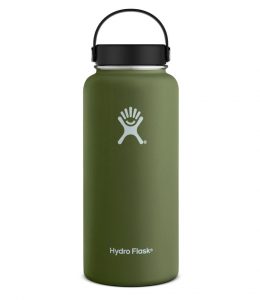 Out of all of the people we interviewed and people who took the survey, the HydroFlask water bottle was by far the most popular. It is a vital asset of the social media "VSCO girl" trend (a trend including big t-shirts, Birkenstocks sandals, metal straws, shell chokers, a passion for saving sea turtles, and the terms "and I oop" and "sksksk.") Please note: People portray this trend in their own way. HydroFlask is selling coolers, mugs, tumblers, insulated totes, and accessories for your water bottle, like bottle boots, caps, and lids. If you are tired of carrying your water bottle around, try HydroFlasks's slings. These new accessories make it easier to carry because your just wear it like a purse. HydroFlasks comes in a wide range of sizes, including 12 oz, 18 oz, 21 oz, 28 oz, 32 oz, 40 oz, and 64 oz. It is a more expensive bottle, priced at around $35 to $65 dollars, depending on the size. But it is environmentally friendly, because of its reusable material – insulated metal. Madelyn Adams of the sixth grade says, "I like my HydroFlask because it saves the turtles and other sea life, and it's material reduces waste." If you are a coffee drinker (or hot chocolate), then maybe HydroFlasks's mugs can help. These mugs keep liquid hot for up to 6 hours. The mugs come in three sizes, 12 oz, 16 oz, and 20 oz. HydroFlask mugs are priced right around $20 to $28.
The Takeya
The Takeya water bottle is another bottle that people enjoy. It comes in many bright colors, including turquoise, fuschia, and hot pink. They market bottle boots, straw lids, and swivel lids, and it is priced at around $25 to $55. They also design different models for different purposes, like Takeya's Actives collection, Originals collection, and Traveler collection. Much like a HydroFlask, it comes in the same sizes, and is made of insulated metal. Mia Chung of the sixth grade says that her Takeya "holds a lot of water, but still stays lightweight." In our survey, only about 4% out of 50 people said they used a Takeya, but we think that this is a great water bottle to try out for both school and sports.
The S'well
Another great water bottle company is the infamous S'well bottle. S'well makes many different bottles, including Sip by S'well and Quench by S'well. Insulated and chic, these water bottles come in tons of new and captivating colors and designs, and some of these include marble, galaxy, geode, and florals. Depending on the size, they are priced at around $25 to $45. This water bottle keeps beverages hot or cold.  S'well sells a handled lid to attach to your bottle, and S'well also markets a sports cap, so this is an excellent alternative. S'well also makes another option, like S'well's two new Tupperware lines called S'well Eats and Snack by S'well. This new foodie alternative, S'well Eats comes with 2 in 1 nesting food bowls, (one clear and one with a stylish design or color). S'well Eats comes in 16 oz and 21 oz, and range from 40-50 dollars. Snack by Swell, a more kid-friendly collection, comes in 10 oz and 24 oz and range from $20 to $25. They also come with nesting bowls, but each bowl will have a different design. These containers come in many colors and designs, much like S'well water bottles.
The Corkcicle
Corkcicle, another insulated bottle, is very similar to S'well. Corkcicle sells canteens, tumblers, mugs, and more. Both come in similar designs and colors, all very trendy and modern. Corkcicle bottles are priced at around $20 to $60 dollars. Corkcicle is also now also selling cap alternatives. However, Corkcicle's handled caps also have sipper lids with straws built in. Corkcicle sells stainless steel straws, ice trays, cleaners, and even more cap alternatives. We find Corkcicle is more known for their canteens and tumblers, but they also sell lunch boxes and coolers. Their collections include your favorite colleges, teams, TV shows, and movies. They also do collaborations with companies such as Rifle Paper Co and designers like Corey Wilson. Also, Corkcicle now sells Hybrid canteens, which are made of glass, and coffee mugs. The Corkcicle mugs sizes include 9 oz, 16 oz, 20 oz, 25 oz, 40 oz, and 60 oz. They are priced at around $25 to $45 dollars, but prices will vary. 
The Nalgene
Nalgene, a mainly plastic water bottle company, has a variety of new and interesting patterns on the outside, a good alternative to the translucent plastic design they market. They are also now selling college-logo water bottles.  Nalgene bottles com in quite a few sizes including 16 oz, 20 oz, 24 oz, and 32 oz. The lids and caps are all appropriate for school, sports, and travel. The lid styles include wide mouth, narrow mouth, pop lid, fitness cap, and screw on. Britton McGurn, a sixth grader says, "My Nalgene has an efficient cap that is easy to open." 
The CamelBak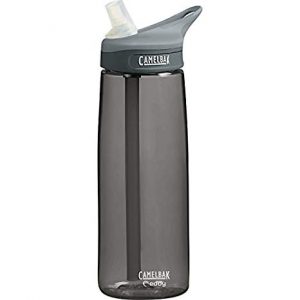 CamelBak is generally known for their plastic bottles with the pop up lid, but did you know they sell insulated metal bottles, mugs, and sport and bike bottles, too? They are sold from as low as 10 dollars to as high as 50 dollars, depending on the material. They come in 12 oz, 20 oz, 21 oz, 32 oz, and 64 oz. CamelBak also markets small hydration packs for hiking and camping. They come in 70 oz and 100 oz, and are very helpful for staying hydrated while hiking, backpacking, etc. Alston Mallis, a sixth grade student, says his CamelBak is reliable and the water he drinks out of it tastes fresh.
The Contigo
Contigo, similar to Camelbak, is most well  known for their mainly translucent plastic bottles, but think again. Contigo is now selling travel mugs, insulated bottles, stainless steel travel tumblers, and shaker bottles, and they are now marketing tons of new colors, designs, and materials. Their accessories are new and innovative, such as the Infuser Stick, (a tube where you put fruits or vegetables, such as cucumber, and attach to your water bottle to make infused water)  metal straws, a stainless steel tea infuser, water bottle lanyard, and pitcher lid, and not to mention they are BPA free, unlike some plastic water bottle brands.
Our Final Thoughts
After all of our research, we have concluded that while reusable water bottles are made of many different materials, metal was by far the most favored by students in the middle school (62% of students favored metal). Reusable plastic water bottles, while not easily damaged, have no insulation to keep your beverage cold. Silicone-made water bottles never dent, but could possibly be punctured or cut, so they might not be the most reliable choice. Water bottles made of metal are most preferable because of their strong insulation, making your drink stay hot (or cold) all day long!
Our goal for this article was to spread awareness about the wide range of reusable water bottles available to you and to discourage the use of plastic single-use water bottles. If you are looking for a new alternative water bottle, we hope this article made your search easier!