by Jon Soren Uyham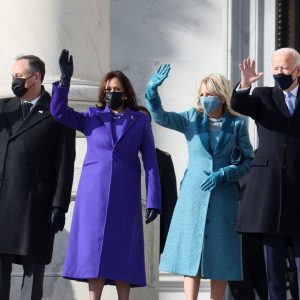 On January 20th, many Americans watched as history was made. The inauguration of Joe Biden and Kamala Harris set, broke, and reset many records.
Joe Biden became the oldest president ever elected and Kamala Harris became the first Black Vice President, the first Asian Vice President, and the first female Vice President. The inauguration was performed under heavy security after rioters broke into the Capitol building the previous week. All former presidents were at the ceremony except two. Jimmy Carter, the only President from our home state of Georgia, was unable to make it because at ninety six years old, he did not believe that it was safe to travel and mix with other people during the COVID-19 pandemic. President Carter did, however, congratulate President Biden over the phone, the night before. The other president that did not attend the inauguration was President Trump who decided not to attend, citing an unfair, stolen election. Presidents Clinton, Bush, and Obama all attended the ceremony, along with their first ladies, Hillary Clinton, Laura Bush, and Michelle Obama. 
More history was made when Kamala Harris was sworn in as Vice President. Her husband, Doug Emhoff became the Second Spouse of the United States of America. This position, formerly called Second Lady, is the husband or wife of the Vice President. Since Joe Biden was formerly President Obama's Vice President, his wife, Dr. Jill Biden knew that role well. However, while Emhoff quit his job as a lawyer in California, Dr. Biden continued to teach at a college in nearby Virginia while she was Second Lady. She has said that she plans to continue teaching, even as First Lady. Dr Biden earned her PhD in education, and she has been teaching for well over three decades. 
Vice President Harris is also a first generation American because her father immigrated from Jamaica and her mother immigrating from India. Harris started her career as deputy District Attorney for Oakland, and then proceeded to become District Attorney, and finally Attorney General of California through a very tight election. She then became a Senator for the state, and was chosen as Democratic Vice Presidential nominee in August 2020.
Throughout the race, election, and inauguration for US president, many events occurred that had not happened in the past and many new choices were made. The new administration hopes that these ground-breaking events will help to make all boys and girls, men and women alike feel empowered to make a positive difference in our country's future.