Diwali: The Festival of Lights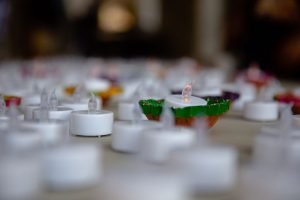 Every November, Indians come together to celebrate Diwali: the festival of lights. Observed by Hindus, Jains and Sikhs around the world, Diwali celebrates the battle of good over evil and light over dark. The festivities of Diwali are celebrated throughout a five day period, with the third day being considered as the main day of Diwali. It is on this day when Hindus around the world come together to pray to the Hindu Goddess Mahalakshmi for luck and wealth, as well as celebrate the Hindu epic of the Ramayana. (The Ramayana is the story of Lord Rama, an incarnation of the Hindu god Vishnu, and his triumph over the demon Ravana, symbolizing the battle of good over evil.)
The celebrations of Diwali often include large gatherings with friends and family, visits to temples, the sharing of food amongst communities and watching fireworks to celebrate the occasion. Families also light oil lamps made from clay called "diyas." The lighting of these diyas symbolizes purity, good luck and power and celebrates Lord Rama's return back home after defeating the demon Ravana, marking one of the most important dates of the year for South Asian families.
However, as a result of the COVID-19 pandemic, many people around the world had to change their Diwali plans to fit coronavirus safety measures. Families were not able to come together to celebrate in large gatherings, food was not shared among communities and many people were hesitant to visit temples for fear of contracting the virus.
Pace had to scale back its Dwali celebration as well. While in the past the school has embraced an observance that included catered Indian food, henna painting and the trying on of traditional Indian garments, this year students planned a more symbolic celebration.
Junior Saanika Tolmare, along with the help of the newly formed Not Your Model Asian Affinity Group (NYMAAG), led this year's Diwali celebration at Pace. Aware that COVID-19 safety measures were going to change the annual Diwali plans, Tolmare still felt the need to do something. "I wanted to incorporate a celebration to our day to celebrate Diwali, but in a COVID-friendly way," Tolmare said.
Tomare and NYMAAG, sponsored by physics teacher Tahseen Kahzi, sought the help of the Pace Asian student population to help plan this event. The group decided that displaying lights would be the best way to celebrate given the COVID-19 precautions. "Quote Needed"
With the help of Pace parents, Tolmare and NYMAAG were able to plan a mini celebration primarily centered around the symbolism of Diwali, and specifically, the symbolism of light. They set up a table outside of the Commons filled with candles and asked students to take a candle and place it on the lawn in front of the castle: a symbolic gesture to spread light and purity around campus.
While both Tolmare and other members of NYMAAG wish they could have done more, they are still pleased by the effort. "Quote Needed" "I wanted to do what we did last year," Tolmare said. Nonetheless, she is still happy with this year's celebration.
Juniors Kargil Behl, Samuel Alkire, and Jude Black placing candles on the front lawn for Diwali. Pictured clockwise from right: Kargil Behl, Samuel Alkire, and Jude Black. Photo: Omar López Thismón.
Caption for Cover Photo: Decoration candles for the Pace Diwali festival. Photo: Omar López Thismón.
---