Kaye Siblings Poised to Expand State Titles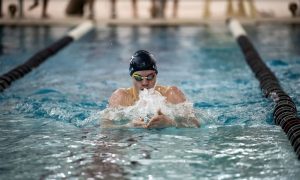 Since the late fall, the Pace swim team has dedicated both time and hard work to achieve their set goals for the season. The team did not let the two-week-long winter break slow them down, as they defeated both Walker and Paideia in their first meet back.
While the group has proven successful as a team, many Aqua Knights have shone individually as well. In particular, the Kaye siblings, senior Charlie Kaye and sophomore Elizabeth Kaye, have crushed the 2018-2019 season, breaking records and winning many events.
Charlie earned the Iron Knight award, given to a swimmer who has a state time in every individual event, proving his diversity in many events from the 50 yard freestyle to the 500 yard freestyle. He finished the meet on Jan. 8 with a win in the 500 yard freestyle, earning him a state qualifying time even though he is considered a sprinter.
At the same meet, Elizabeth, known by the nickname Lizzy, broke her own school record in the six and 11 dives. In the 11 dive, Lizzy became the first girl from Pace to earn her first perfect 10 out of 10 from the judges. Lizzy now owns all the Pace diving records from middle to high school.  
Charlie also beat his own school and meet records in the 50 yard freestyle and the 100 yard backstroke. Charlie won the 100 yard backstroke 1A-3A state championship last year, and placed second in the 100 yard freestyle. Charlie hopes to defend his state title and win the 100 yard freestyle this year, which would earn him a total of three state championships in his high school career.
Lizzy also had an impressive state meet last year, earning the 1-3A state championship as a freshman. Her exceptional diving performance earned her a spot on the National Interscholastic Coaches Association (NISCA) All-American team.
With the help of the Kaye siblings, the Pace swim team has high aspirations for the state meet Feb. 7-9 at the Georgia Tech Aquatic Center.
---