Juniors Eagerly Anticipate Senior Year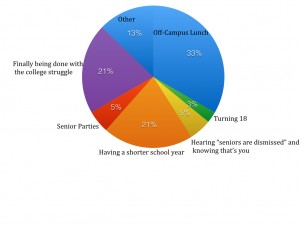 With the end of this school year comes new beginnings, and for the current junior class, the beginning of the end. There are countless benefits to being a senior, but not all benefits were created equal.
To find out which perks were the favorites, The Knightly News surveyed the 11th grade. The data indicates that the absolute best thing about being a senior is off-campus lunch, which Chick-fil-a and Willy's will benefit from greatly.
Turning 18 came in last with three percent, which apparently means they're not looking forward to adulthood.  Juniors also had different answers under the Other category such as the "senior cellar," "boiz," and "not having the current senior class around." 
---