Get a 'Pizza' this Halloween Pie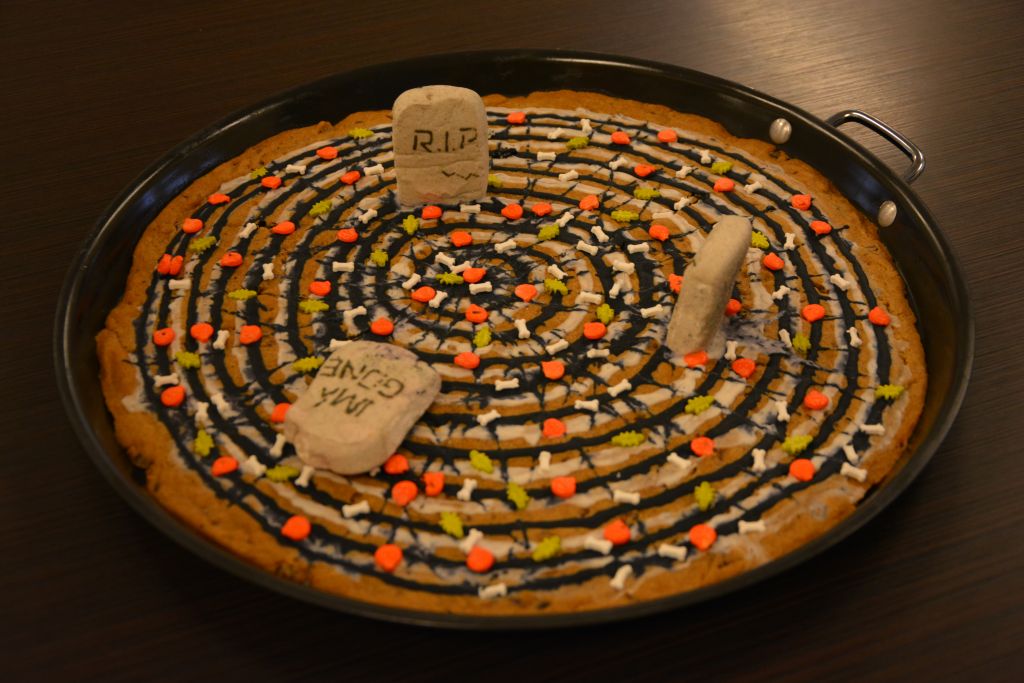 It's that time of year again: when leaves begin to fall and the chill returns to the Atlanta air. Everyone knows that the start of fall means Halloween is just around the corner. And with Halloween comes the return of many different flavors to the culinary world, ranging from the pumpkin spice of Starbucks lattes to the sugary flavors of candy corn. This personally curated recipe by the Knightly News staff attempts to bring the most gourmet and spooky food to the people of Pace Academy. So without further adieu, here is the recipe to make your very own Halloween-themed pizza.
Spooky Pizza Pie

Recipe by Eno Reyes
Ingredients
1 Package Cookie Batter
Icing of any flavor
Peanut M&M's (Or Regular if you're allergic)
Spooky sprinkles
Peeps Marshmallow Tombstones
Any other creepy toppings
Directions
Preheat oven to the temperature suggested by the cookie batter packaging.
Spray your pizza pan with FDA-approved cooking spray.
Take out your cookie batter and knead the "dough" until you have one large "cookie," in a circular shape.
Place said shape into your pan, and once the oven reaches its intended temperature, place your pan into your oven. (Or whatever oven is available at the time.)
Once your cookie is finished cooking, and the crust reaches a delicious golden brown, take it out and allow it to cool for a few minutes.
Begin decorating with icing. Icing decoration is a difficult task to master, so do not be afraid to make mistakes in your growth as a baker. I simply made two swirls with black and white icing, and then took a small knife and sliced radially from the center to create a spider-web effect.
 Add your sprinkles; this is the fun part. Place your sprinkles evenly around the pizza, and place them generously. This will increase appeal and decrease the chance of someone noticing mistakes in your icing spreading.
Add the marshmallow tombstones as a final touch, so the people eating your cookie will question if they are eating a delicious Halloween treat, or a graveyard.
You're done! Place the cookie in the refrigerator or serve to your guests/eat it alone.
That's all it takes to make a delicious Halloween treat! Now you, too can go and spook your friends with a delicious pizza pie.
---