Dear Susie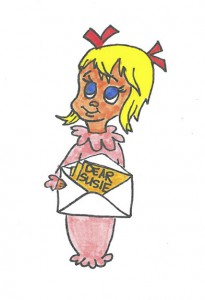 Dear Susie, Christmas is around the corner and I am contemplating whether to get this boy who I have just recently gotten involved with a present or not. I don't want to get him a present and seem too serious, but I want to be considerate. What should I do? I am undecided.
Dear Undecided, I think you should get this boy a gift! I don't think you are moving things too fast; it's sweet to show you're thinking about him. Plus, everybody loves getting presents! You should give something small and casual like a T-shirt, gift card to his favorite restaurant, or something you've baked.
Dear Susie, my mom went through my texts! She didn't find anything inappropriate, but it's still upsetting. This isn't the first time she has invaded my privacy, and I want to confront her about it but I know she won't listen. What should I do? I am insulted.
Dear Insulted, I definitely think that you should confront your mom. Even though you are her daughter, I never think it's OK to disrespect someone's privacy. On the other hand, keep in mind that she was doing so as a protective and caring mother. Even though it is frustrating, her intentions were probably for the best. When you say something to her, try and stay calm because I think that will help her take you more seriously (rather than coming across as a hot-headed teenager who is unstable). If you still don't think you are getting through to her, you can always look to your dad, a sibling, or another family member or close friend to back you up.
Dear Susie, I have been having problems with my ____ teacher. I don't think he/she likes me very much, and I'm afraid it's affecting his/her grading. Some of my friends suggest I should talk to my dean, but I don't want to be a tattletale. What should I do? I am worried.
Dear Worried, I think it is better if you try and not think about grading. All you can do is try your best. As a student you should focus on your studying, and the rest will take care of itself. Try your best to be polite and respectful during class, and that will also help your cause. If you still feel that the teacher is biased, then you should talk to your dean. It is important to do what makes you feel better and more comfortable, aka what helps you sleep at night. If this is something that is seriously worrying you, then go ahead and speak to somebody. But if you feel confident enough to make it through a few more classes, then I think you should just wait it out.
By Sallie Hays, Staff Writer '13
Illustration: Sallie Hays
---